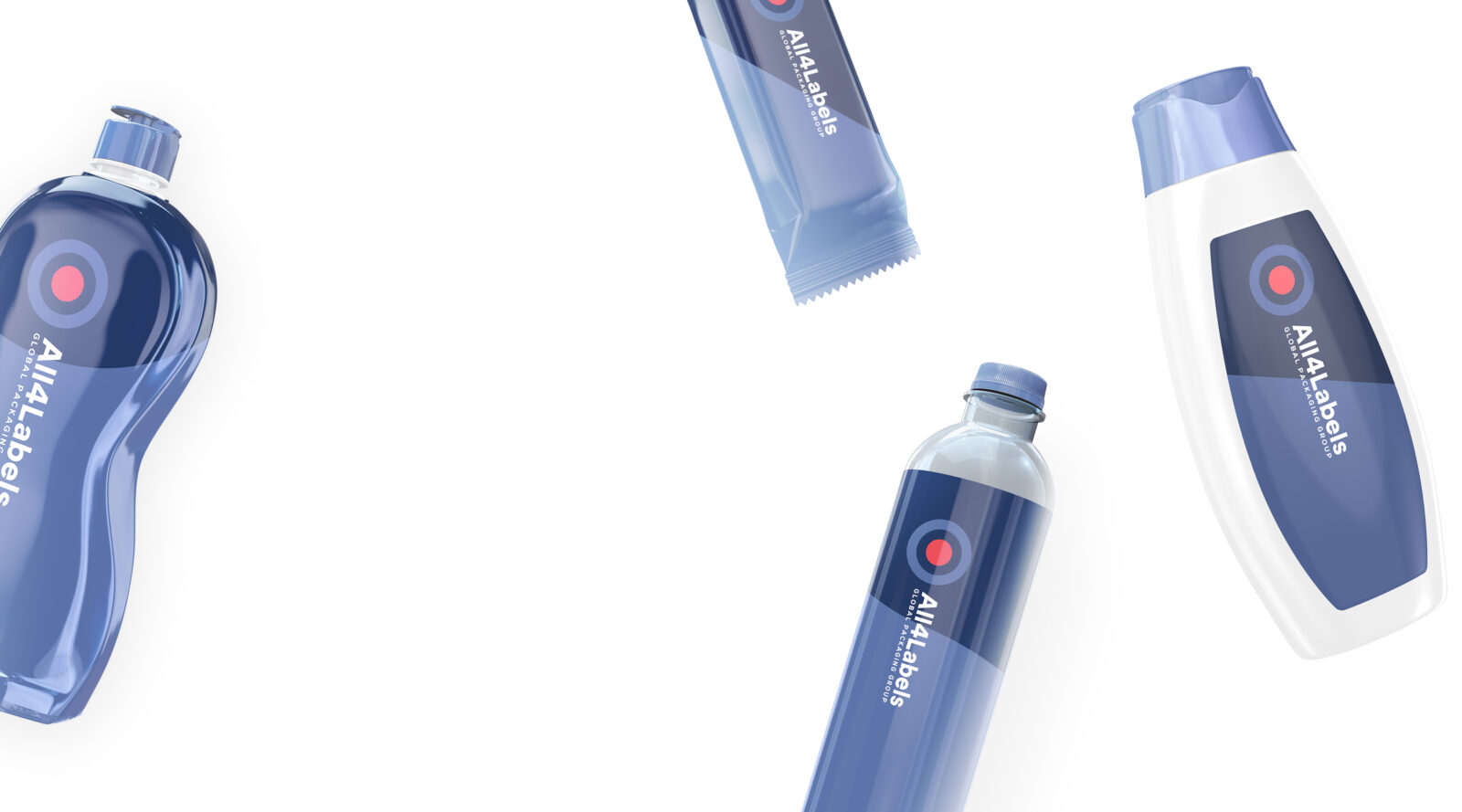 Industry-leading
decorations for
your products
Our product portfolio extends beyond labels to sleeves, tubes and specialties, leveraging our expertise to offer the most suitable product to our customers.
We offer a vast variety of packaging solutions manufactured in the highest quality and a great number of printing and finishing techniques to realise tailor-made product solutions. Extremely versatile and customer-centric, we aim to find the ideal product application relevant to the sector and the utilisation in order to increase your brand visibility and highlight your product features.
Read more
Labels
Pressure
Sensitive Labels
Pressure-sensitive labels (PSL), also known as self-adhesive labels, are the most flexible decoration technology, being extremely versatile and cost-effective. Papers, films and special substrates can be utilised in combination with various adhesives and specifically adapted to any application and packaging type. Our range of printing and embellishment options enables us to respond perfectly to the different market requirements.
Standard Labels
Double & Multi Layer Labels
Booklet & Leaflet Labels
Multipack Layers
Peel-Off Labels
Closure & Reclosure Labels
Logistic Labels
Blank & Sheet Labels
Promotional Stickers
All common analogue printing technologies (Offset, Flexo, Screen and Gravure)
Combination printing up to 14 colors
Leading variety of digital printing options
Variable data printing for serialized fully digitally printed labels
Embellishment options: metallics, lenticular, 3D effects, foils, tactile varnishes etc.
Own coating opportunities for specific applications

Detach adhesive solutions for a full recyclable approach

Various printed security features

Digital printing near site plants
Labels
Wet Glue
Labels
Wet-glue labels, also known as cut-and-stack labels, typically consist of paper. The labels are cut into their specific shape after printing and then stacked. The adhesive is only applied during the dispensing process at the customer. A variety of paper substrates and printing technologies can be chosen. Wet-glue labels are particularly cost-efficient for high volume applications, like in the beverage industry or for reusable and disposable containers.
Standard Labels
Double-sided Labels
Wash-off Labels
Labels for returnable glass bottles
Combination printing up to 8 colors
Offset UV and conventional printing
Flexo UV and water based printing
Gloss and matt effects
Metallized effects
Mechanical embossing
Spot & relief varnish
Embellishments options: cold foil, tactile varnishes, glow in the dark effect
Special die-cuts
Metallized paper
Embossed paper
High opacity paper
Cast coated paper
Humidity and alkali resistant paper
Labels
In-Mould
Labels
In-Mould Labeling is a technology that fuses a preprinted label with a packaging container during the container production process. The label is placed in a mould and takes on the shape of the mould while curing. As a result, label and packaging become one, providing a no-label look. Major advantages are the strong resistance properties as well as the monomaterial combination that enables downcycling.
Standard Labels
Glossy and Orange Peel Labels
Recyclable Labels
Promotional Labels
Double sided Labels
Peel-Off Labels
Combination printing up to 6 colors

Offset and Flexo UV printing

Injection and blow mold technology

Coldfoil

Special materials

Matt and gloss effects

Metallized and holographic foil in spot areas

Special die-cuts
Soft touch material
Clear BOPP material
White BOPP (solid and orange peel) material
Orange peel metallized material
Recyclable packaging: Label can be recycled with the container
Labels
Wrap Around
Labels
Wrap Around Labels rank among the most cost-effective decoration forms for high volume products. The labels fully wrap around the container and have an overlap, where one end of the label is glued to the other end. Printing is given up to 10 colors and can be combined with a white underlay as well as a matt varnish effect on the surface. The application is mainly directed at PET bottles.
Flexo HD & Gravure printing up to 10 colors
Offset printing up to 7 colors
Digital printing
Variable data printing (Mosaic)
Transparent, white and metallised film
Embellishment effects incl. 3D effects, haptic varnishes, shiny metallic etc.
Pearly and holographic effects
Good recyclability due to easy removability of the label
Sleeves
Shrink
Sleeves
Shrink sleeves are a decoration technology that provides the full coverage of a container. It adapts to all shapes without wrinkles by using materials that shrink at certain temperatures. A 360° advertising space offers a variety of possibilities for branding and promotional opportunities, making your product stand out at the shelf. Due to reverse-printing, it is highly scratch-resistant and therefore extremely durable with a sophisticated and unique look.
Full Body Decoration
Single, Double or Triple Chamber Sleeves
Promotional Onpacks, Duopacks, Giveaways
Functional Shrink Sleeves
Tamper Evident Solutions
Flexo HD & Gravure

pr

inting up to 10 colors

Offset printing

up to 9 colors

Digital printing with special COF white

A wide range of substrates: PETG, OPS, PET-C, LD film, PVC

Embellishment effects incl. 3D effects, haptic varnishes, shiny metallic gravure etc.

Pearly and holographic effects

Perforations & tear strips

On roll or single cut pieces

Hot air/ hot steam Tunnels
Consulting and project management
Innovative material development
High shrink materials for special applications
Bicolor material
(Partial) matt effects
DPG Logo
Tubes
Laminate
Tubes
The laminate tube is one of the most flexible primary packaging options due to the variety of materials as well as numerous printing & embellishment possibilities. It enables a seamlessly printed 360° full body decoration with no visible welding seam. The excellent barrier properties offer the tube contents maximum protection.
Aluminium Barrier Laminate tube (ABL)
Plastic Barrier Laminate tube (PBL)
PP Laminate tube (under development)
High efficient printing with up to 12 colors (HD Flexo, Digital, Offset, Screen)
Wide range of materials (white, clear, silver)
Upgrading with special varnish, iriodin, cold and hot foil effects
High gloss silver or gold
Metallic special effects
Tamper evident closure solutions
New sustainable material solutions in progress
Development of thinner raw materials with less thickness
More sustainable than other materials: less use of resources in production and less waste
Tubes
Labelled
Tubes
Labelled tubes provide the numerous decoration and embellishment solutions of Pressure Sensitive Labels. The labels perform an 80% decoration space on a preformed colored tube body, allowing an all round decoration. High flexibility in tube embellishments allows for sophisticated artworks and perfect adaption to your corresponding bottle designs – thus ensuring continuity among product ranges.
High efficient printing with up to 14 colors (HD flexo, digital, offset, screen)
All printing specialties available
Wide range of material (white, clear, silver, hologram)
Varnish, hot and cold foil stamping, Holo-Print®
Tactile and glossy varnish
Decoration aligned to your bottle range, no limitation
All4Labels aligns the label material to the squeezability of the tubes to ensure perfect usability throughout the life of the product
Specialprodukter
Flexible
Packaging
Flexible packaging stands for a comprehensive range of products made of plastic, films, paper and special barrier layers. We find tailor-made product solutions for every packaging task. As a pioneer in using digital printing technology for primary food packaging, we offer fast and flexible solutions, especially for the increasing demand for smaller and medium production batches and larger product variants.
Stand Up Pouches
Tubular bags
Flow Packs
Sachets
Lid Films
Special solutions
Flexo HD printing up to 10 colors
Digital printing within food conformities
Lamination for duplex or multi-layer applications
High-precision cutting / finishing
Available film properties: transparent, white and metallised
Matt and gloss effects
Hot and cold seal
Antifog, peel, pasteurisation
Tailor-made barrier solutions for MOSH/MOAH, UV-light, gas, aroma, oxygen and water-vapour
Own materials:
Starblocker®: best recycability and product protection properties
Starsaver®: ultra-high barrier solution without aluminium
Bio-based films for various applications
More than 300 different material types and thicknesses available
Design4recycling solutions for a better recycability
Specialprodukter
Folding
Boxes
Whether multipacks, premium cases or cluster, the folding box has many faces. We provide all kinds of shapes and work with a range of materials from cardboard to metallic and plastic. Solid cardboard boxes, coupled with plastic film or microwave and barrier lamination, fulfill protection requirements and can hold a wide variety of items. Special finishings create a unique look for a strong shelf appeal highlighting your product message.
Cluster, Single & Multipacks
Wrappers
Linear Folding Boxes
Conventional and UV Offset printing
UV coatings
Embossing
Lamination
Spot varnish
Metallized effects
Window Patching
Low-migration colors
Micro-engravings for hologram effects, custom patterns and drawings
Hot print, up to 3 colors on different axes to maximize the print area
Specialprodukter
Thermoformed
Trays
Thermoformed trays are manufactured by shaping a cardboard using heat. As a single piece the assembly does not require glue. The special design of the thermoformed tray makes it extremely resistant to temperature changes, while maintaining the natural properties of the food, so that the tray can be heated or frozen. It is available in a wide range of shapes and sizes for various applications in the food market.
Thermoformed carton trays
Black trays
Trays with partitions
Trays requiring no outer packaging
Hang packs
Hybrid trays
Rounded trays
Flexo printing

Combination with offset printing carton covers

Barriers (oil and grease barrier)

Trays with colour variety

Carton covers with color variety

Combination with printed carton covers or sealing film
Temperature resistancy
Moisture and grease resistancy
Possibility of round designs
Trays not requiring an outer packaging are a sustainable alternative to carton boxes, reducing material by 50%
Specialprodukter
Smart +
Secure Labels
Smart+Secure labels cover the entire portfolio of smart label technology and brand protection solutions. This includes customized smart label design, proof of authenticity, track & trace, anti-theft protection, smart supply chain and direct-to-consumer marketing. Our product range starts from high resolution nanograms, visible and invisible security features up to contactless End2End Auto-ID solutions based on RFID, UHF, NFC and matching hardware.
EAS (RF, AM, EM)
RFID
NFC
Hologram (Standard, NanogramTM)
Cloud Track & Trace Solution
Hard tags
Paper hang tags
Sew-in labels
Laser inscription
Imprint and encoding
Tamper evident solutions
Blackmarking
Hidden images
Serialization
Sustainable RFID antennas
On-metal RFID tags
Laundry RFID labels
Dual/ triple frequency tags
Rain RFID Hardware
E-Kanban tags