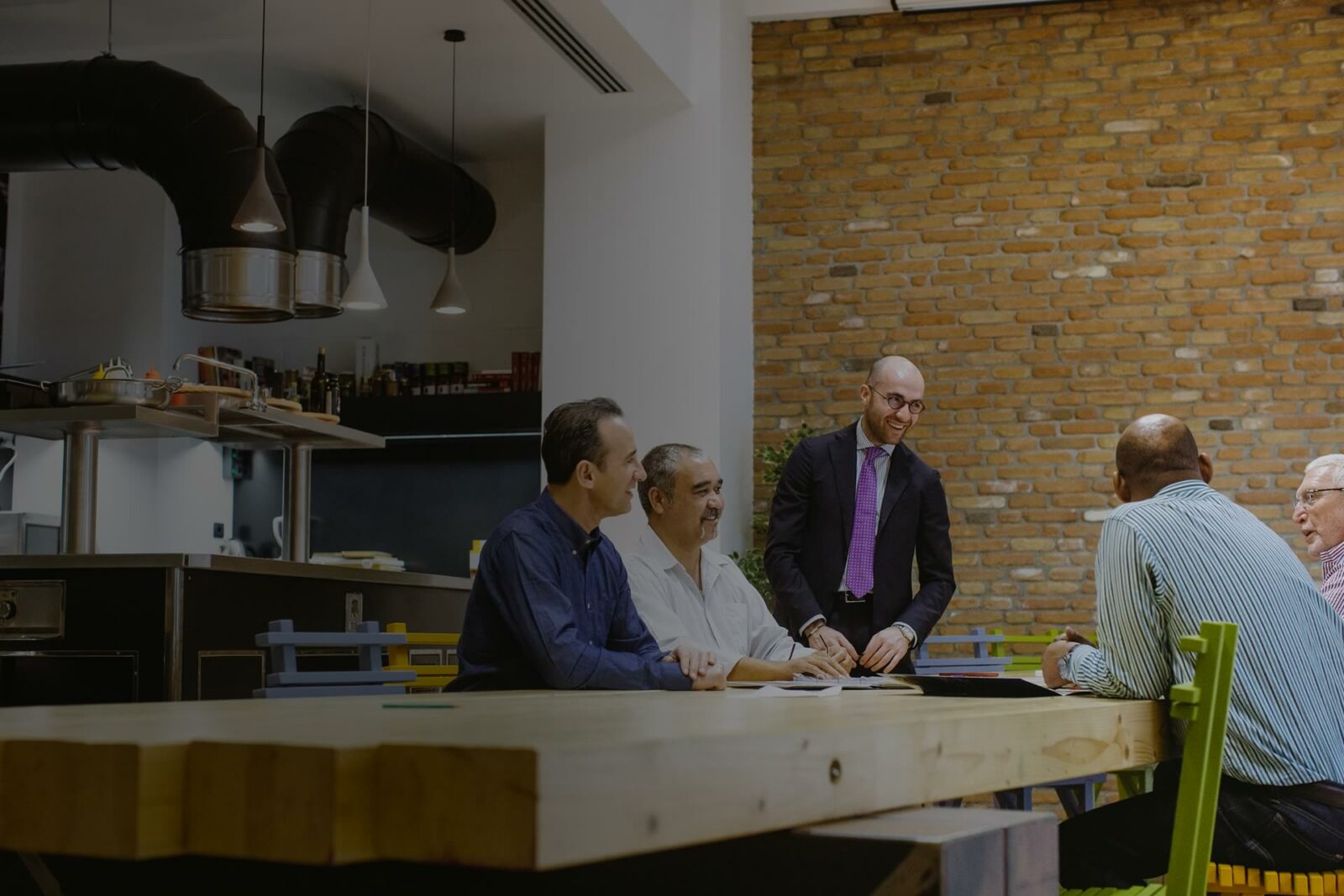 MARKET OVERVIEW
Wine & Spirits
Label design is a key purchase driver in an increasingly competitive wine & spirits market. The power of visuals in storytelling is undeniable. Visual content can overcome language barriers, convey complex messages and inspire an immediate response in people. Packaging offers a new platform for interaction with the end consumer as well as for innovative technological solutions to respond quickly to industry trends.
As a brand that wants to engage consumers in a deeper way, how do you create visual impact on the shelf?
Wine and spirits are not a commodity, but a good that is increasingly associated with aspects of hospitality, important celebrations, and conviviality. It is therefore important to expand its offer not only to the infinite possibilities of printing, but also to the applications that technology offers us to best interpret that meaning of deep connection between a brand and the end consumer, something  we have always cared about at All4Labels.
Discover Motherland, our showcase for the Wine and Spirits market
Special Products
PRESSURE SENSITIVE LABELS FOR RED WINE
Sensory effects on the packaging are among the most characteristic elements in the wine sector. To depict these, we offer a wide range of materials.
This is supplemented by an extended variety of finishes that combine the latest printing technologies with new solutions. Our focus is on the sustainability of the entire packaging.
PRESSURE SENSITIVE LABEL FOR WHITE WINE
The functionality of the label is particularly crucial when it has to withstand humidity, which occurs when a bottle is immersed in the wine cooler. Our technical experts can recommend the best combination of materials and adhesives to suit your needs to ensure maximum durability.
No-label-look effects can be achieved through noble printing technologies with a glass effect and very thin materials.
PRESSURE SENSITIVE LABEL FOR SPIRITS
In the spirits market, it's quite common for brands to launch new campaigns that reflect the brand identity and at the same time take into account customer expectations, such as supporting the sustainability challenge. With our team of specialised technicians, we can even transform metallic labels.
We reproduce the same visual effect by embellishing the labels and offer alternatives without compromising on sustainability.
SLEEVE FOR SPIRITS
We offer a wide range of revolutionary premium sleeves that integrate offset, flexo and screen-printing techniques and holographic cast effects, with the following options:
Possibility of internal-external simultaneous printing for bifacial film
Cold foil and Silkscreen finished for a precious decoration and tactile effect
Special perforation for tamper evident seals or any other need of design and recycling
SLEEVE FOR PROSECCO
With our end-to-end approach, we are able to support from the project development to the final application. We accompany every testing process necessary to help you validate a wide range of materials that can better benefit your product until the end of its life cycle.
Our technical engineers will advise you on the right machine settings in the search for maximum efficiency.
WET GLUE LABELS AND FOLDING BOXES
Our offset sheet department covers all major labelling applications, including wet glue labels, three printing lines and three cutting and die-cutting lines offering a wide range of solutions, either for regular or irregular shapes.
We produce cardboard cases (micro-wave resistant), with automatic bottoms and internal dividers. We print with offset technology and enhance the finishing with UV coatings, screen printing, drop-off effects, hot foil, and micro-incisions for a unique look.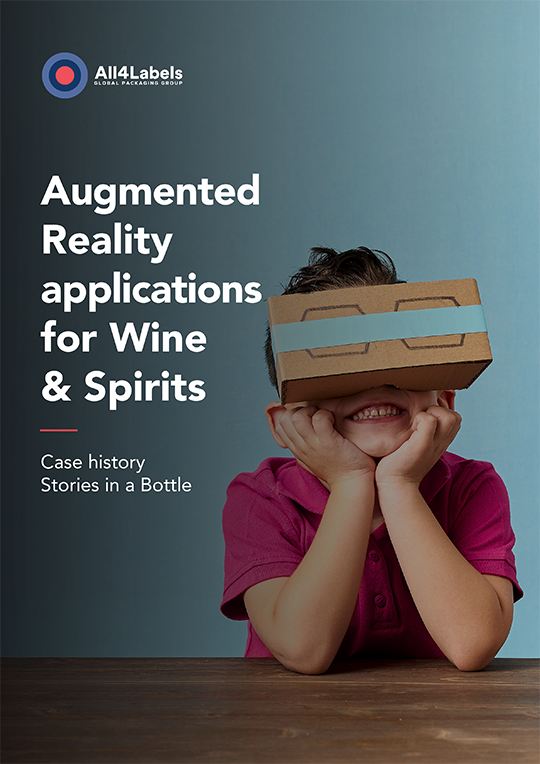 Augmented Reality: Promoting consumer interaction
Over the past few years, a passionate team has developed solutions that showcase the many possibilities a label offers, combining shelf-appeal with brilliance and functionality with interactivity.
With this creative heritage within our team of young designers, we hope you will be able to draw inspiration, because innovation, in our understanding, must be "open" and ready to contaminate the industry in which we want to contribute.
Adding value to your bottles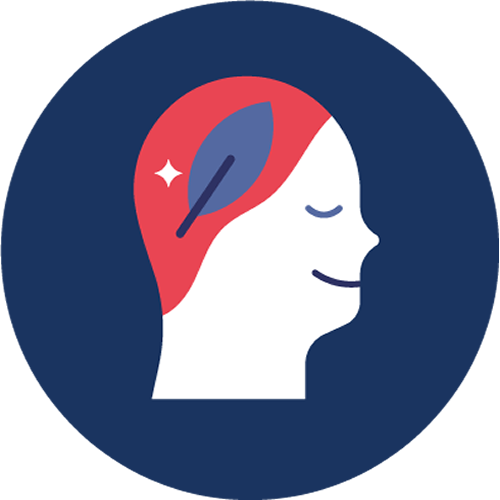 SUSTAINABILITY:
THINK GREEN
Environmental education teaches consumers that environmentally conscious thinking and buying may be more expensive, but in the long run has less impact on the earth and on individuals in the long run.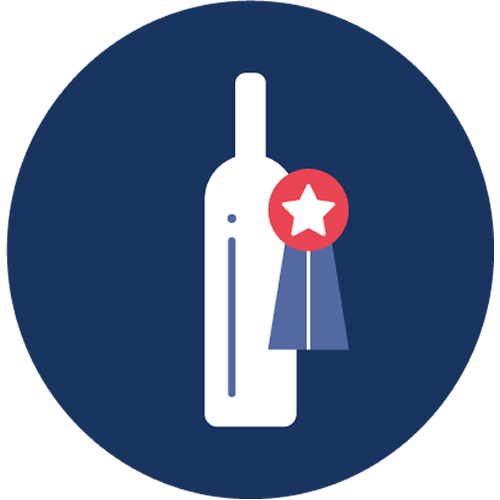 PREMIUM PACK:
SOMETHING SPECIAL
Consumers are looking for excellence because this is what makes a unique product. Packaging made of materials with special finishes has a nice feel when touched with the hands.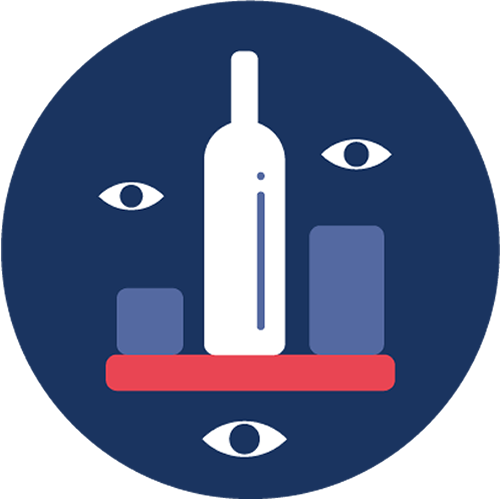 SHELF APPEAL:
CATCH THE EYE
Create visual impact on the shelf and engage consumers on a deeper level with yourbrand. Our solutions are efficient, eco-friendly and offer both brand engagement and information.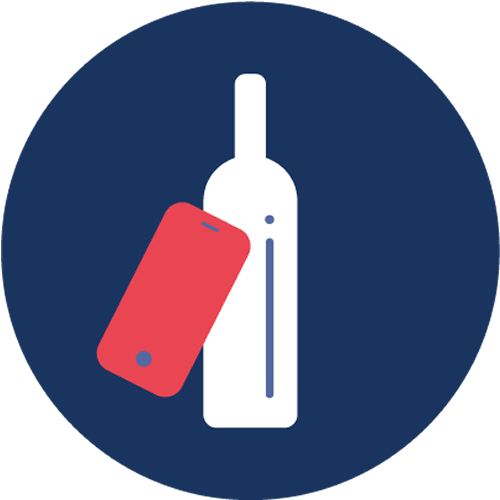 INTERACTIVITY:
CONSUMER ENGAGEMENT
Consumers want to be assured of buying an anti counterfeit products. At the same time they are looking for special shopping experiences and want to be suprised. Find out more under Label Intelligence Solutions.
The digitalization journey is part of the global DNA of All4labels. Acting as a pioneer, and bringing new digital applications to customers, releases huge potential for growth.
Premiumization is a driver for the wine and spirits market and we could provide a cost-effective alternative to conventional silkscreen printing combining outstanding aesthetics with digital productivity.
Digital print can boost productivity, enhance sustainability and lower high quality luxury labels needed, with high thickness embellishments, while also offering all of the benefits of digital print. These include elimination of origination/cutting/tooling costs, along with less scrap (improving sustainability) and faster production.
Discover more here

Join our newsletter to know more about our products and unlock news, trends and curiosities to take a peek at the future with us.