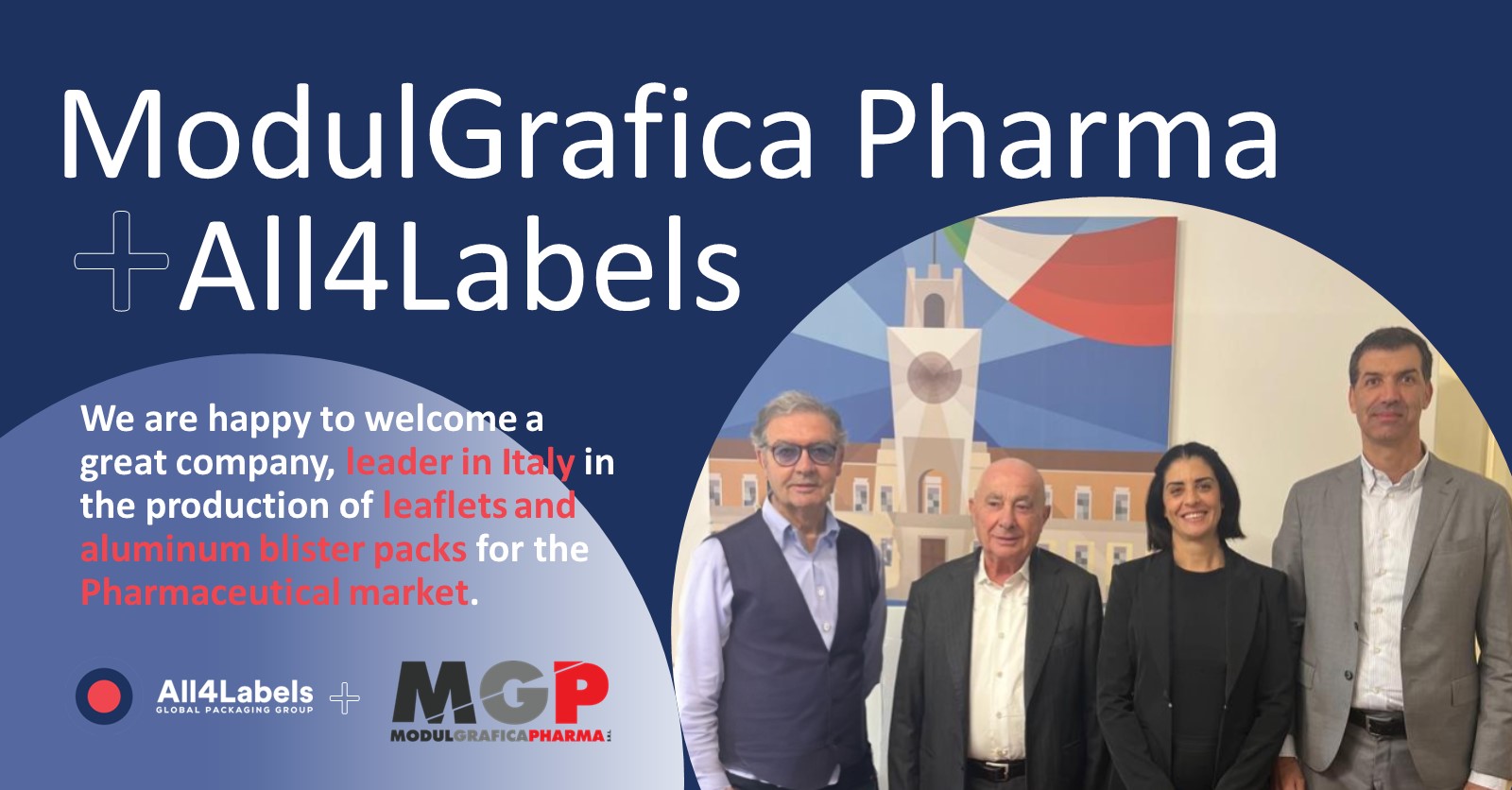 Modulgrafica Pharma joins the All4Labels Group
All4Labels Global Packaging Group, a leading international manufacturer of labels, as well as a pioneer in sustainable and digital packaging solutions, is further consolidating its global growth path, by welcoming Modulgrafica Pharma, a leading company in Italy in the production of leaflets and aluminum blister packs for the Pharmaceutical market.
Paloma Alonso, All4Labels CEO, states: "We are delighted to continue our growth trajectory at full speed in the regions and markets that are part of our roadmap. With the entry of Modulgrafica Pharma, we can further expand the portfolio of solutions and expertise that we offer for the pharmaceutical industry. I am confident that we will achieve even more challenging and ambitious goals together."
Antonio Iannone, President of All4Labels Italy, emphasizes: "We are extremely pleased and proud to welcome the whole Modulgrafica Pharma team, with whom we pursue the same goals of satisfying customers by guaranteeing the safety and quality of our products. This partnership marks an important milestone for All4Labels and underlines our determination to expand our presence and capabilities in the pharmaceutical segment.
Founded in 1970 in Latina, Italy, Modulgrafica Pharma developed a high manufacturing capacity in the production of primary and secondary printed packaging mainly for the pharmaceutical industry. Andrea and Simona Coletta, senior managers at Modulgrafica Pharma, say: " Joining All4Labels Group represents an important growth milestone for us. We look forward to starting to cooperate with the whole global team of experts, devoted to digitalization, innovation and sustainability."
All4Labels Group will continue to invest in attractive regions, technologies and markets which offer opportunities for further sustainable growth as well as expansion.
About Modulgrafica Pharma
Modulgrafica Pharma was founded in 1970 by Vittorio Coletta. In the beginning the typography was small, the machines few.  Vittorio began specializing and working with the pharmaceutical companies that were starting to settle in the pharmaceutical district south of Rome. Year after year, the operating offices have been expanded and moved several times, up to currently counting two production sites and a large warehouse for raw materials storage and more than 100 employees. In 2000 the aluminium printing line (Flexographic Printing) was also introduced to the company, which currently consists of 4 printing machines divided into two clean rooms. Today ModulGrafica Pharma is a lithographic / flexographic enterprise with customers all over the world, highly specialized in pharmaceutical printed matter.