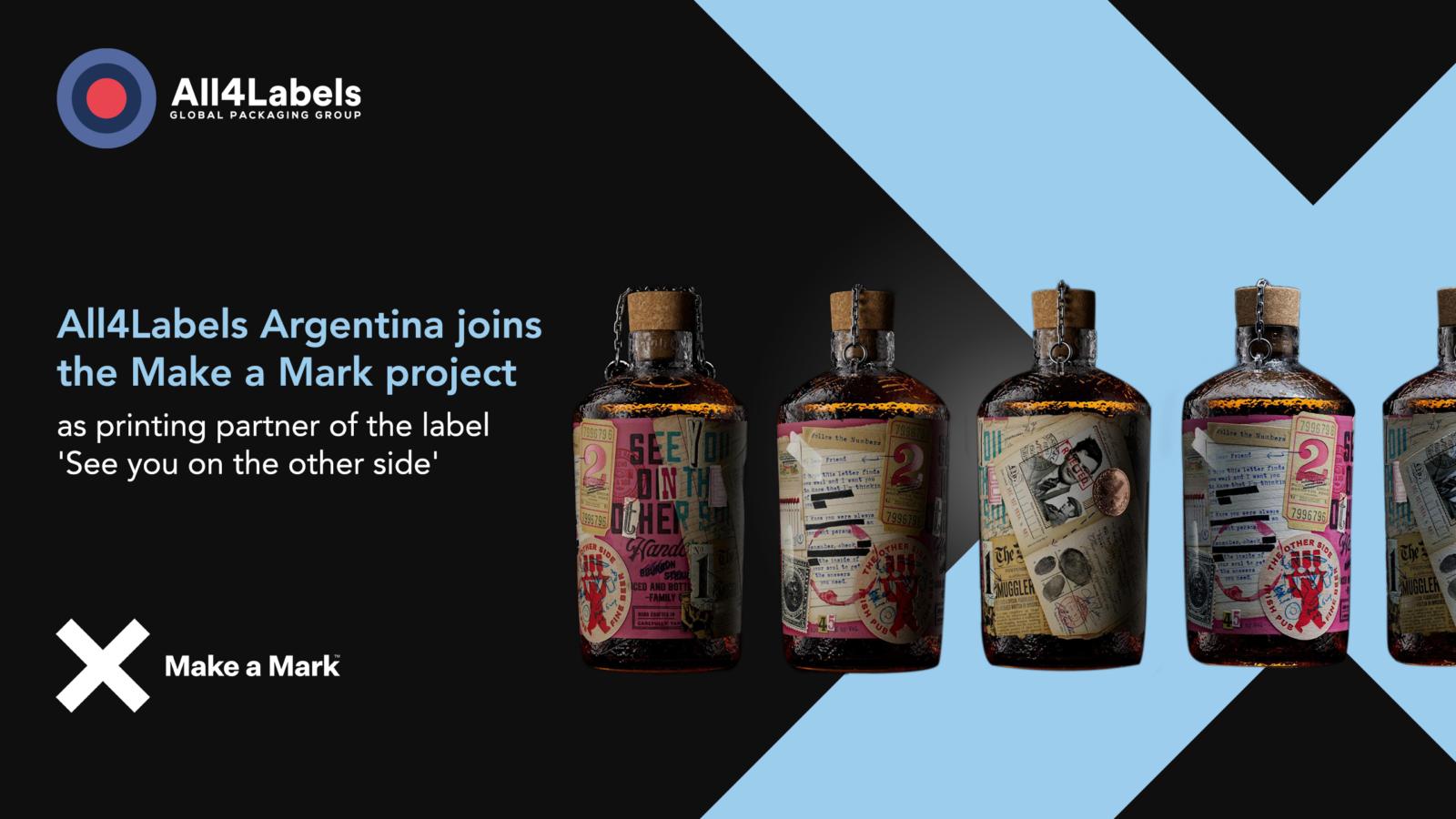 All4Labels' engagement in "Make a Mark" project
For the third edition of the "Make a Mark" Project, All4Labels took part as printing partner in a design concept called "See you on the other side" showcased at the Luxe Pack 2023.
Make a Mark is a pioneering project resulting from the collaboration between three esteemed companies:  Avery Dennison, renowned for its expertise in labeling materials; Estal, which is specialized in glass bottle production; and Leonard Kurz, a key player experienced in finishing and embellishments solutions. Make a Mark is an absolute benchmark in the packaging design industry and a key platform to foster innovation.
This project aims to promote creativity and innovation: designers are invited to redefine the idea of packaging proposing revolutionary outcomes for the luxury market.
The program for this year highlighted the necessity to link premium packaging solutions to a commitment to the environment under the theme of "progressive design at the intersection of sustainability, luxury, and innovation".
Our team in Argentina contributed as printing partner to this rousing challenge to push packaging to a higher level with a label designed for the wine & spirits segment focusing on the commitment to reach the perfect balance between luxury and sustainable solutions.
Our proposal was developed by Oveja & Remi, an Argentine packaging and brand design company specializing in alcoholic beverages. The name of the project is "See you on the other side" and illustrates the story of a drink made by prisoners and two friends who help each other escape. By following the numbers on the label and bottle, they get the clues to escape – and open the bottle.
The label is a blend of precious solutions (clear silk screen and embossing) and creative flair (Siegwerk invisible ink –visible with UV light) encapsulated by an inimitable design.
See you on the other side was presented at Luxe Pack 2023 in Monaco exhibiting its unique concept and witnessing the power of collaboration between partners of excellence in the packaging industry.
The design concepts for 2023 have been realized thanks to labeling materials from Avery Dennison, printing tools glass from Estal, and embellishments from Kurz and are included in a special-edition book.
All4Labels evaluates the collective efforts towards a common goal, and these occasions are key to enforcing our partnerships, driving excellence, and pushing the boundaries of creativity. These valuable collaborations are inspiring and contribute to fostering ideas, insights, and purposes of the future.
Discover more about Make a Mark