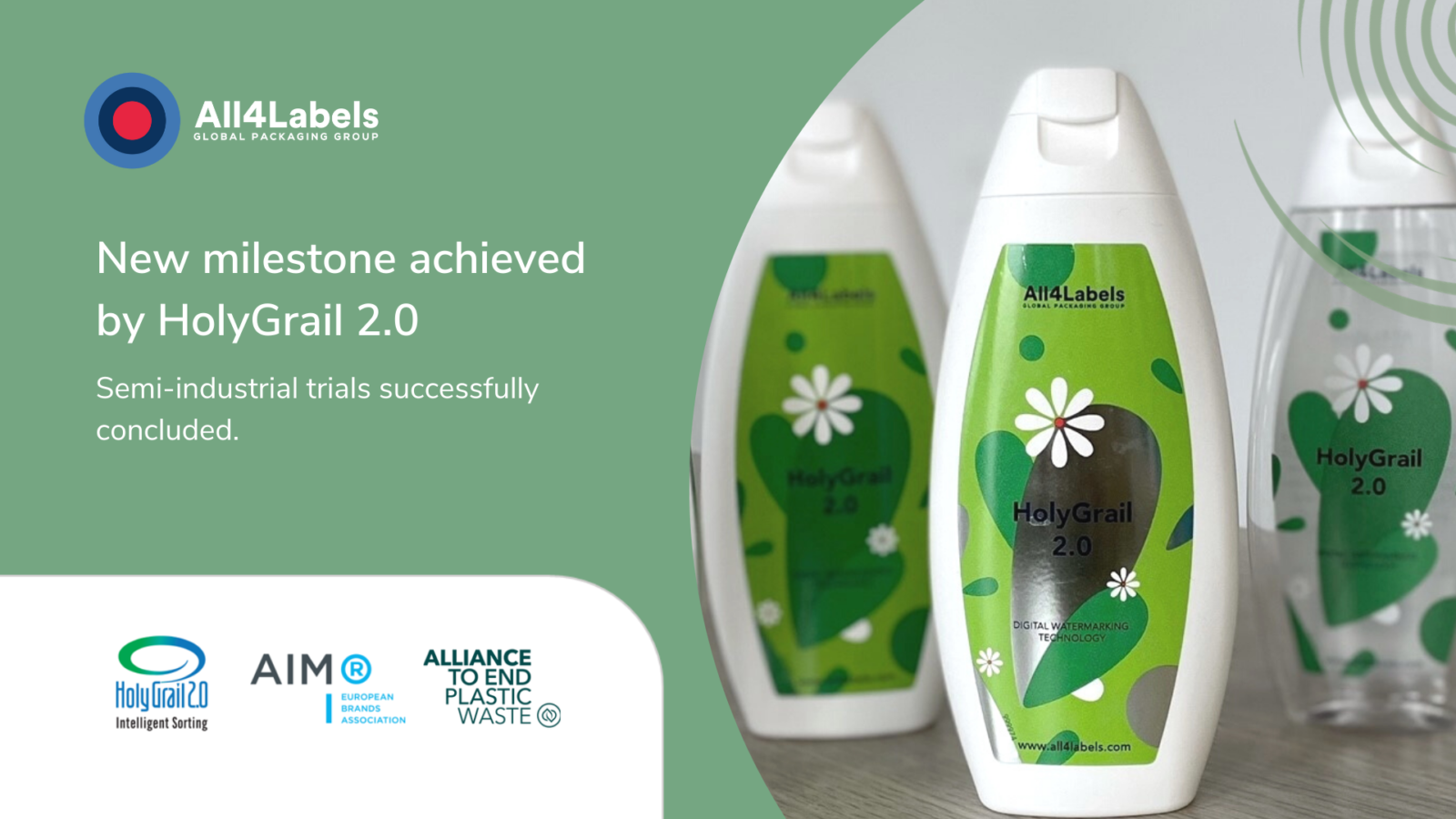 HolyGrail 2.0 successfully concludes semi-industrial trials
Another significant milestone towards industrial development has been reached by HolyGrail 2.0, with the latest semi-industrial trials for validating the innovative detection sorting unit. The project's sustainability goals are brought an important step closer with these trials, which are overseen by AIM – the European Brands Association and the Alliance to End Plastic Waste. HolyGrail 2.0 is supported by over 130 companies and organizations, including All4Labels.
Sustainability is a key driver for All4Labels and, as member of the HolyGrail 2.0 Association, the group is actively participating in this initiative. All4Labels joined the phase 2 semi-industrial testing in Copenhagen last October and November (2021), where a prototype detection unit was trialed, using samples printed by All4Labels to enable testing.
Final validation tests were successfully completed last month. The officially released detection rates were 99% on average across different packaging materials, confirming HolyGrail 2.0 as a valuable contribution to increased sustainability. Such semi-industrial validation means that the initiative is now able to move on to industrial tests at full scale.
What is HolyGrail 2.0?
The global HolyGrail 2.0 initiative involves players from the whole packaging value chain, with the aim of developing industrial applications of digital watermarks. These imperceptible codes in the artwork design are able to revolutionize the way packaging is sorted in the waste management system, opening up new possibilities that are currently not feasible with existing technologies.
HolyGrail 2.0 addresses one of the most pressing challenges in achieving a circular economy for packaging: better sorting of post-consumer waste, with accurate identification of packaging resulting in more efficient and higher-quality recycling.
Our commitment at All4Labels
All4Labels joined HolyGrail 2.0 several years ago. A wide cross-functional team has engaged with the project since, from R&D and Sustainability experts through to All4Graphics (our packaging design unit). HolyGrail 2.0 represents an important component of a wider All4Labels sustainability strategy that follows a 3Ps business model focused on People, Products, and Planet.
The overall aim is to accelerate the development of new solutions by reaching fundamental goals, such as:
finding the most responsible disposal mechanisms for waste (Planet)
increasing recycling rates, using 100% recyclable solutions and increasing the recycled content in materials (Product)
Improving sorting in the recycling process supports All4Labels' goals toward circularity in the value chain.
Massimiliano Martino, CTO, All4Labels: "We are excited to move this important project forward in partnership with the main players of the packaging and labeling industry. Our actions will continue reflecting All4Labels commitment to Sustainability, and through team work and collaboration we will positively shape the industry."
Gabriela Neves Ferri, VP Global R&D and Sustainability, All4Labels: "It is always very rewarding to participate in projects like HolyGrail 2.0. We make a valuable contribution to changing the rules and to rethinking the way we do packaging. Supporting the value chain and validating the viability of digital watermarking technologies is important, and we look forward to accurate sorting and the resulting higher-quality recycling rates."