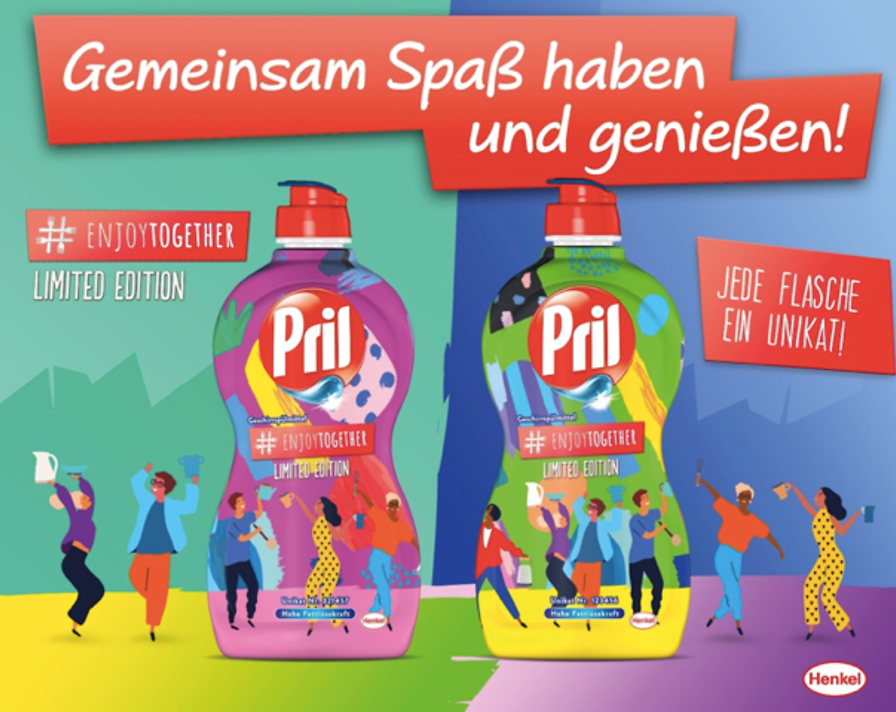 Henkel has launched the new Pril limited edition
So much for a dull autumn! Henkel is bringing a colourful eye-catcher to German households with the classic dishwasher Pril in the limited #Enjoytogether edition. Like last year, Henkel is surprising with creative label designs that will put the kitchen in a good mood.
The limited labels are produced by Folienprint RAKO GmbH, a company of the All4Labels Global Packaging Group
The HP Indigo 20000 Digital Press, the HP Mosaic software and the PrintOS Composer were used to create this variable data magic – each bottle becomes a unique item with an individual unique number and provides a personal touch in the kitchen.
This year, Henkel launches the #Enjoytogether initiative for the limited design edition of Pril. The focus is on the idea of celebrating moments in life together and bringing people together, for example over a cosy meal with the family. In addition to Pril's outstanding cleaning performance, the initiative focuses on colourful designs in two versions: The variant with an exotic scent is a real eye-catcher thanks to the choice of colours, purple and blue, while Pril with its fresh citrus scent sets colourful accents in shades of yellow and green.
"After the successful project around the limited Pril edition with the popular flower design, we are pleased to support Henkel in its new design initiative again this year", says Martin Lücke, Global Quality, Environment, Health & Safety Manager at All4Labels Global Packaging Group. "In view of the current COVID-19 pandemic, we are all the more pleased with this year's #Enjoytogether idea of the initiative and hope to put a smile on the faces of consumers with the colourful designs in their homes. Once again, every Pril bottle is unique. This is made possible by the HP Indigo digital printing technology used – unlike conventional printing processes, we can efficiently and profitably produce shorter runs as well as handle an ever-increasing variety of products and realise individualised campaigns. The application possibilities are virtually unlimited – a great competitive advantage, thanks to only one digital printing solution."
Fast printing on a variety of materials
With a web width of up to 760mm and a print speed of up to 42m/min, the HP Indigo 20000 Digital Press enables high-volume, large-format label printing and the production of flexible packaging on a variety of materials. HP Smart Stream Mosaic is an algorithm that automatically generates a large number of unique graphic patterns from an original pattern.
For the creation of more than a million print-ready PDFs, the HP PrintOS Composer, a cloud-based application based on central high-performance servers, is used to quickly create print files from variable data.
"With digital printing from HP, we have all the freedom we need for flexible label and packaging printing and can also work more flexibly, faster and more efficiently," says Martin Lücke, Manager at All4Labels. "Another highlight are the additional options, such as HP Mosaic and Collage, with which we inspire our customers and which represent real added value."