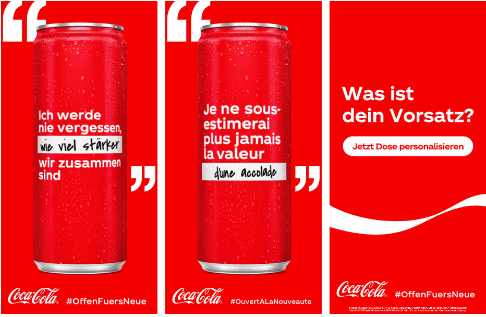 Coca-Cola limited edition with personalized messages for optimism #OpentoBetter
With the new campaign #OffenFuersNeue – #OpentoBetter for the English-speaking countries –, Coca-Cola features a range of resolutions on its packaging to encourage consumers to think about their resolutions and to look ahead. The campaign aims to inspire optimism and openness, encouraging people to appreciate everyday things in a new way and to enjoy them more consciously. Coca-Cola wants to make a contribution to ensuring that we as a society face the future with more positivity, tolerance and a sense of community. The limited edition series carries various messages instead of the logo, such as "I will never take my friends for granted" or "No more excuses: our idea is happening".
With a print run of 15 million, the wrap around labels were printed digitally by All4Labels with mass personalization to enable the variable messages. Thanks to digital printing, the variable texts could be intermixed on the roll, 46 per variety of Coca-Cola original flavor and Coca-Cola zero, each in German and French.
"This campaign is another great example of the advantages of digital printing, enabling brand engagement with consumers through customized labels", explains Marco Ciapponi, plant manager of All4Labels Italy. He adds: "Another key advantage are definitely the short lead times that reduced the time to market significantly."
In addition to the limited edition on the shelf, Coca-Cola invites its customers to customize the packaging online with their individual resolutions, filling in on-pack phrases such as "I will never ____ without you again" or "This year I will ____". On the Coca-Cola page you can choose your can, flavor and add your individual message.
What resolutions have you made?