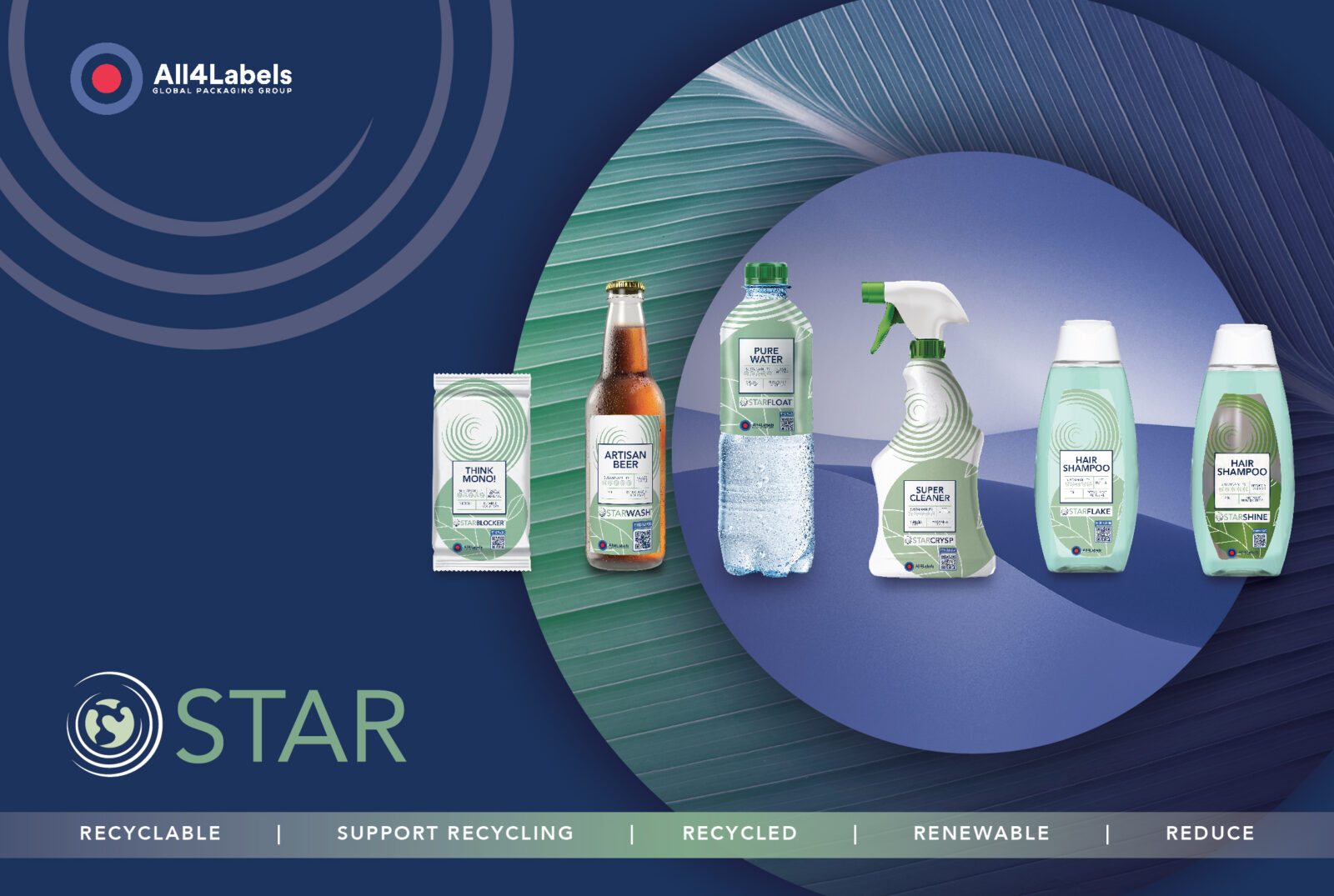 All4Labels launches the STAR Portfolio to achieve best-in-class sustainability performance
Hamburg, 12th July 2022 – All4Labels Global Packaging Group, one of the world's leading label and packaging companies, is ready to achieve the best-in-class sustainability performance by launching STAR, an eco-innovative portfolio of products, services, and solutions.
The STAR Portfolio will be progressively released to the market in the second half of 2022 to offer customers an exclusive range of completely recyclable, reusable, and renewable products, which, will be complemented with unique solutions and services to promote and enable recyclability. This is a key step to support the employment of materials with recycled content, closing the loop and empowering circularity across the entire value chain.
Adrian Tippenhauer, All4Labels CEO states: "As a result of our ongoing efforts towards the delivery of sustainable products and services, we are launching the STAR Portfolio to let our commitment in this field perfectly match with the needs of our customers and of our planet. We are a reliable partner for every organization that is looking for sustainable, innovative, and digital solutions capable of contributing to the achievement of the UN Sustainable Development Goals, while maintaining the highest quality standards."
Massimiliano Martino, All4Labels CTO announces: "We continue innovating to best serve customers with the highest level of quality, performance, and eco-friendliness, and we are committed to deliver the most positive impact when it comes to Sustainability. We are pleased and proud to launch STAR, which is the result of our extensive investments in research, development, and modern production technologies".
The STAR Portfolio includes Star Products and Star Services for multiple labeling and packaging applications:
Star Services will support Sustainability across the entire value chain as following:


Star Products will support and enable full recyclability, while utilizing reusable and renewable materials:

All4Labels considers the development and launch of the STAR Portfolio a key step to take Sustainability to the next level for the entire label and packaging industry, and for its customers. All4Labels will continue investing to continuously enhance the STAR portfolio.
Gabriela Neves Ferri, Vice President R&D and Sustainability at All4Labels, concludes: "It is essential to keep on investing in research and development to deliver the most innovative products and services, considering not only the materials, but also the footprint that the entire production process leaves on the planet. Our aim is to satisfy all the sustainability challenges of brand owners, retailers, and regulators with a wide range of top quality and environmentally friendly solutions."
Press contact
Paola Iannone
Phone: +39 347 6613768
Email: paola.iannone@all4labels.com