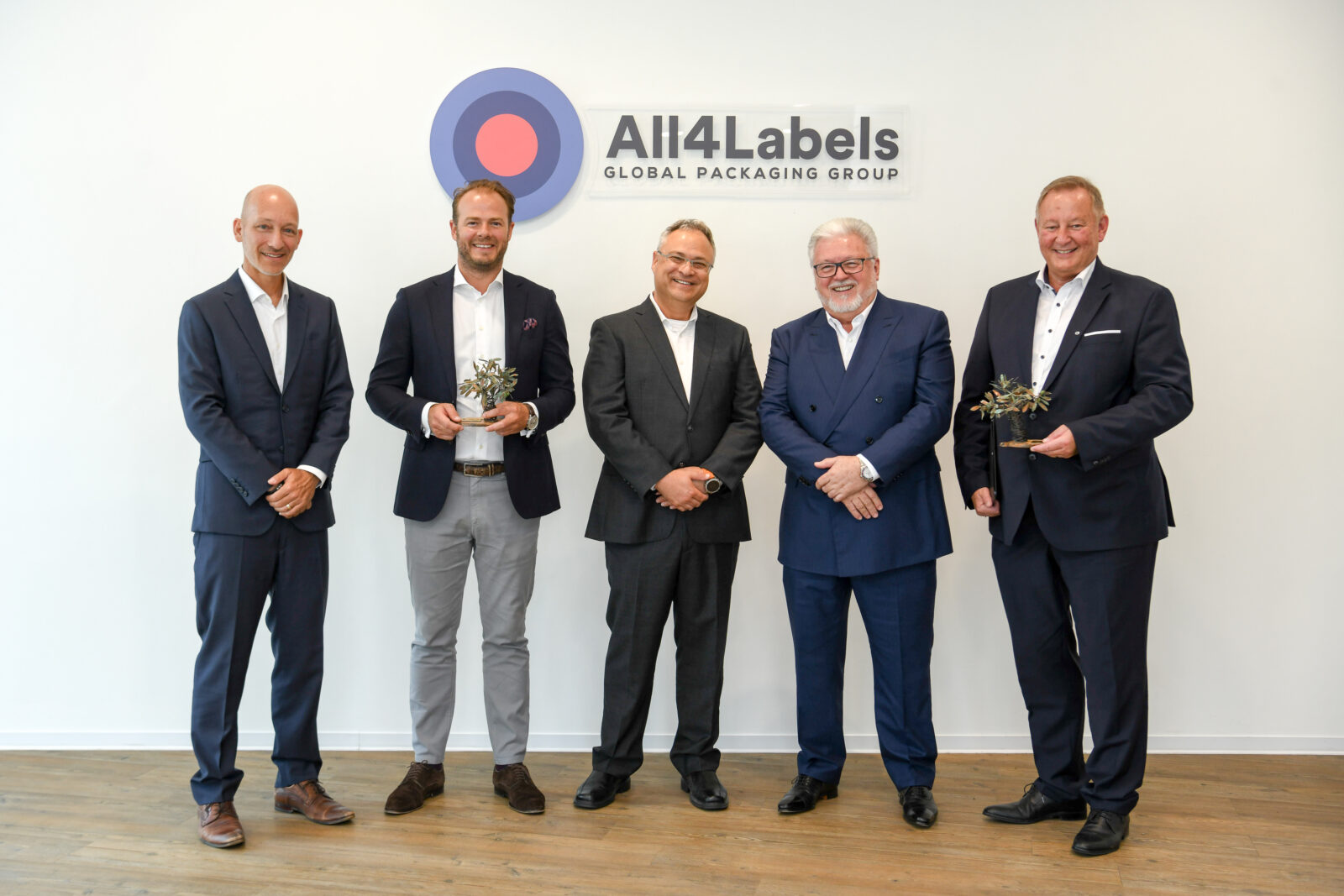 All4Labels celebrates the 25th anniversary of its successful and sustainable digital journey together with HP Indigo
25 years of long-standing partnership
5 additional years of close partnership
Joint Development Projects with focus on Sustainability to grow All4Labels digital printing capabilities above 30%
Pilot testing, installation, and development of one of first V12 HP cutting-edge technology at All4Labels Trittau Site
All4Labels operates HP Indigo Presses with 100% renewable energy
All4Labels Global Packaging Group, one of the world's leading label and packaging companies, celebrates 25 years of active leadership in the digital printing sector in partnership with HP Indigo. On the occasion of the celebration, All4Labels and HP Indigo have signed off the extension of the Master Global Agreement for five additional years. The agreement endorses a strategic cooperation aimed at enhancing of +30% of All4Labels Digital Footprint worldwide.
The celebration of this strategic milestone took place at the All4Labels Site at Trittau – a worldwide leading digital production site for labels and packaging – with an entire day dedicated to the latest digital printing technologies starting from the development of the first digital printing machines installed 25 years ago at All4Labels. The focus of the day was also to combine digital printing technology with the latest product development for sustainability.  
All4Labels is pioneer of digital printing by constantly bringing new applications to the market and developing innovative and sustainable solutions for the industry. During the 25th anniversary All4Labels revealed its contribution and determination to install one of the first ever HP Indigo V12 Digital Press in Trittau. It is the first press to utilize the new industry altering LEPx technology, with a narrow-web label press capable of printing at 120 linear meter per min significantly reducing waste and CO2 emissions with all the capabilities of HP Indigo's technology.
All4Labels has decided to take innovation and technology further by affirming its capacity to deliver digital, innovative, sustainable, and customized solutions that allow all customers to adapt to the fast-changing markets.
"We are extremely excited to be marking 25 years since the installation of the first HP Indigo digital press at All4Labels. The relationship has since grown over the years into a deep and trusting collaboration that has gone from strength to strength" said Haim Levit, SVP and GM at HP Industrial Print Business, "The past 25 years have seen the All4Labels business evolve through 4 generations of our products and solutions. This is a great opportunity to build on the past but also look at what the future holds. We have invested in a huge number of innovation & resources into our future platforms and are extremely proud that All4Labels is looking at continuing and expanding this journey with our latest platforms. These game changing platforms will position All4Labels at the cutting edge of the industries in which they operate and allow them to continue to make a difference within the market".
Adrian Tippenhauer, Chief Executive Officer​ at All4Labels states: "With our technological and digital capabilities, paired with our innovative mind-set we're helping our customers to maximize the benefit out of our partnership ​– by reinventing how printing is done. 25 years ago, our digital printing site in Trittau set the first step towards our successful story in digital label leadership and our expertise is consecutively expanded to the whole global group. We anticipate consumers' needs and enable our partners to fully leverage on the key drivers such as digitization, customization, and sustainability. ​Our capabilities are state-of-the-art, enabling us to automate, and to improve productivity, quality, and safety."
Massimiliano Martino, Chief Technology Officer at All4Lables adds: "We are now ready to shape the industry's future by making digital printing faster, seamless, and highly efficient in each of its aspects. While we are contributing to the development of new HP Indigo presses including the V12, we have already implemented an advanced digitalization program that includes a robust online portal where customers can directly order to press. We are connecting our HP Indigo printing lines to automated vehicles and robots to drastically enhance safety and efficiency. Specifically, to industry 4.0 together with HP Indigo, we have equipped operators with augmented reality glasses and headphones to visualize in 3D presses live for remote operations, support, simulations, and trainings. All our HP Indigo presses are connected to monitor their production performance live, and we are establishing a central control room in our Hamburg headquarters to monitor, navigate and manage our digital production worldwide."
Regarding Sustainability All4Labels has solid programs in place to minimize waste and to maximize the lifespans of equipment. Life Cycle Assessments are constantly conducted to decarbonize as much as possible each printing and converting step with a great focus on enabling de-inking to accelerate the full circularity of substrates, including resins regenerations near-and-off-site. All4Labels is planning to launch a proprietary owned Life Cycle Assessment Tool specifically engineered for digital printing, which will be jointly used with HP Indigo.
Hamburg, 28th June 2022
Press contact
Paola Iannone
Phone: +39 347 6613768
Email: paola.iannone@all4labels.com