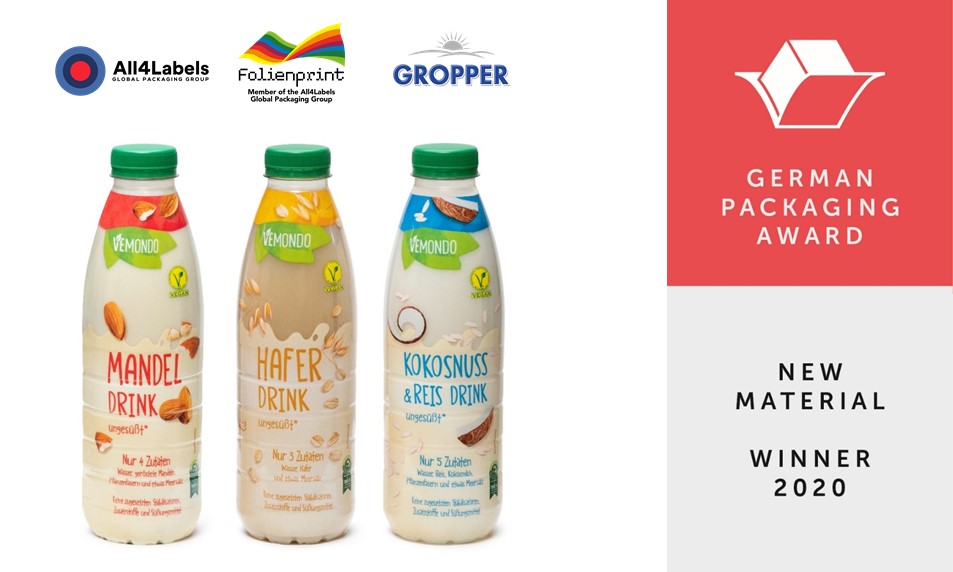 New StarFloat material by Folienprint wins German Packaging Award 2020
Folienprint, member of the All4Labels Global Packaging Group, has been awarded with the German Packaging Award 2020 in the category "new material" for their StarFloat Sleeve material. Together with Molkerei Gropper the product packaging of their vegan milk alternative Vemondo has been submitted into the competition.
StarFloat is a recyclable sleeve packaging which is designed to enable the separation of the sleeve from the container. By this, the materials can be separated according to their material flows and the main component of the packaging can be returned to the cycle. The material has been devised in such a way that it can be separated mechanically on the one hand and by sensor technology via the different types of plastic on the other hand. The third possibility is the separation via the float-sink process due to the material's density <1. This makes this sleeve material suitable for almost all applications in which the sleeve needs to be separated from the container during recycling.
Oliver Doleschal, Managing Director Folienprint: "We are delighted about the award, especially because it confirms our efforts to develop sustainable product solutions specifically for our customers' needs. StarFloat completes our existing product range of the product brands StarBlocker and StarSaver."
The German Packaging Award stands under the patronage of the Federal Ministry for economic affairs and energy and is organized by Deutsches Verpackungsinstitut. The winners of the German Packaging Award 2020 are divided into a total of ten categories. This year's entries primarily focus on solutions in the areas of sustainability and digitization.