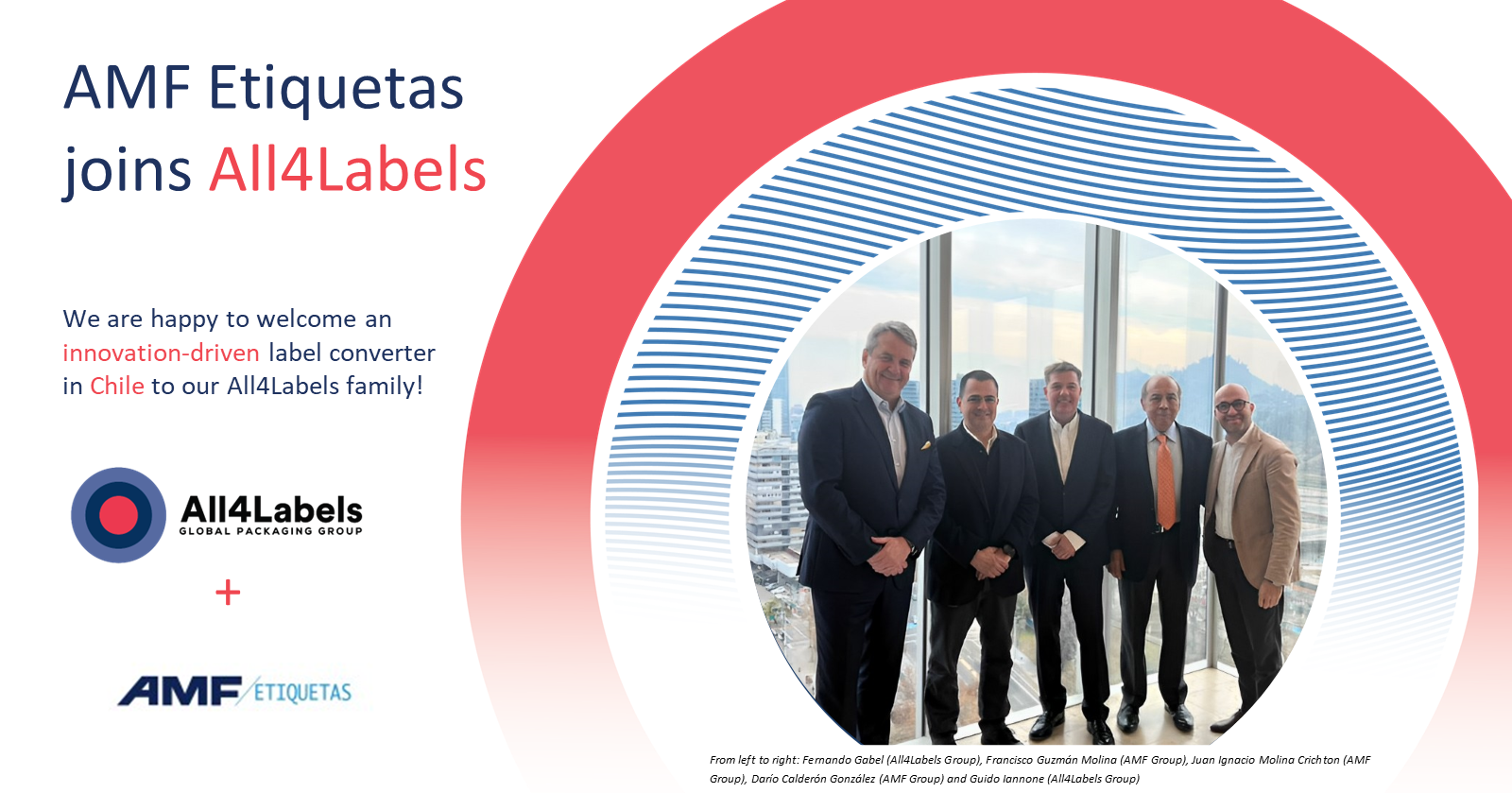 AMF Etiquetas joins the All4Labels Group
All4Labels Global Packaging Group, an internationally leading manufacturer of packaging solutions, as well as a pioneer in digital printing, is continuing its global growth strategy. All4Labels and the AMF Group (Alfredo Molina Flores Group) have entered into an agreement, whereby AMF Etiquetas SpA, an innovation-driven label converter in Chile, will become a part of the All4Labels Group. The specific details and conditions of the transaction were not disclosed.
The latest transaction represents an important milestone for All4Labels as it broadens its market presence in Latin America by expanding to Chile, recognized as one of the key wine exporting nations globally.
Guido Iannone, All4Labels' Chief Sales Officer and President for Central and South Americas, highlights: "By expanding our network to a strategically relevant location for the Wine & Spirit market, we will be able to cater both existing and future customers with high-quality and industry-tailored products, including self-adhesive labels, wet glue labels, shrink sleeves and in-mould-labels. We are convinced that AMF Etiquetas complements our company strategy as they have a pioneer position for innovative, digital and sustainable packaging solutions. We are looking forward to the great future that lies ahead and are very pleased to welcome all employees from AMF Etiquetas as new partners and members of the All4Labels family."
Darío Calderón González, current President of the AMF Group, who has also advised the companies as a lawyer for more than fifty years, states: "It is with great pride and satisfaction that we announce this transaction. The AMF Group was founded in 1945 by Mr. Alfredo Molina Flores (†) and is still family-owned and managed by the third generation. Juan Ignacio Molina Crichton, a member of this third generation, will continue to manage the labels division."
With his extensive experience and deep understanding of the market, Juan Ignacio Molina Crichton will play a pivotal role in driving the rapid expansion of All4Labels in the Latin American wine & spirit and food markets. His expertise will contribute significantly to the company's growth in these sectors. Juan Ignacio Molina Crichton: "Over the last decade, AMF Etiquetas has positioned itself very well based on strong market presence in terms of service, operational excellence, innovation, and sustainability. An essential next step was to look for an international partner that would allow us to grow together with our customers, both locally and internationally. With All4Labels we have found a strategically aligned partner to do so."
Fernando Gabel, M&A President of All4Labels, summarizes: "This partnership extends All4Labels' footprint to Chile and enables us to strengthen our local and global presence in the attractive wine & spirits market. Both All4Labels and AMF Etiquetas have an innovation-focused market approach, and we are excited to work together to develop and offer high-quality label and packaging solutions. We are very pleased to welcome Juan Ignacio Molina Crichton, his management team and all employees from AMF Etiquetas. Finally, I would like to thank all parties involved for their trust and valuable support in this project."
The new partnership with AMF Etiquetas represents the sixth acquisition of a leading packaging business by the All4Labels Group in Latin America within this year. These investments underline All4Labels strategy of sustainable investments into long-term growth, professionalization, and cross-regional expansion in a global context.
About AMF Etiquetas
AMF Etiquetas SpA, previously part of the AMF Group, has been active in the printing industry in Chile since 2009. AMF Etiquetas was founded with the objective of developing and strengthening the label business division of its previous parent company, also focusing on the development of different graphic solutions for mass consumption packaging. The company is operating a +7,200sqm production site in Chile. The +110 employees mainly focus on pressure sensitive labels, wet glue, shrink sleeves as well as in-mould-labels. The key sectors catered by AMF Etiquetas are wine & spirits and food as well as beverages.