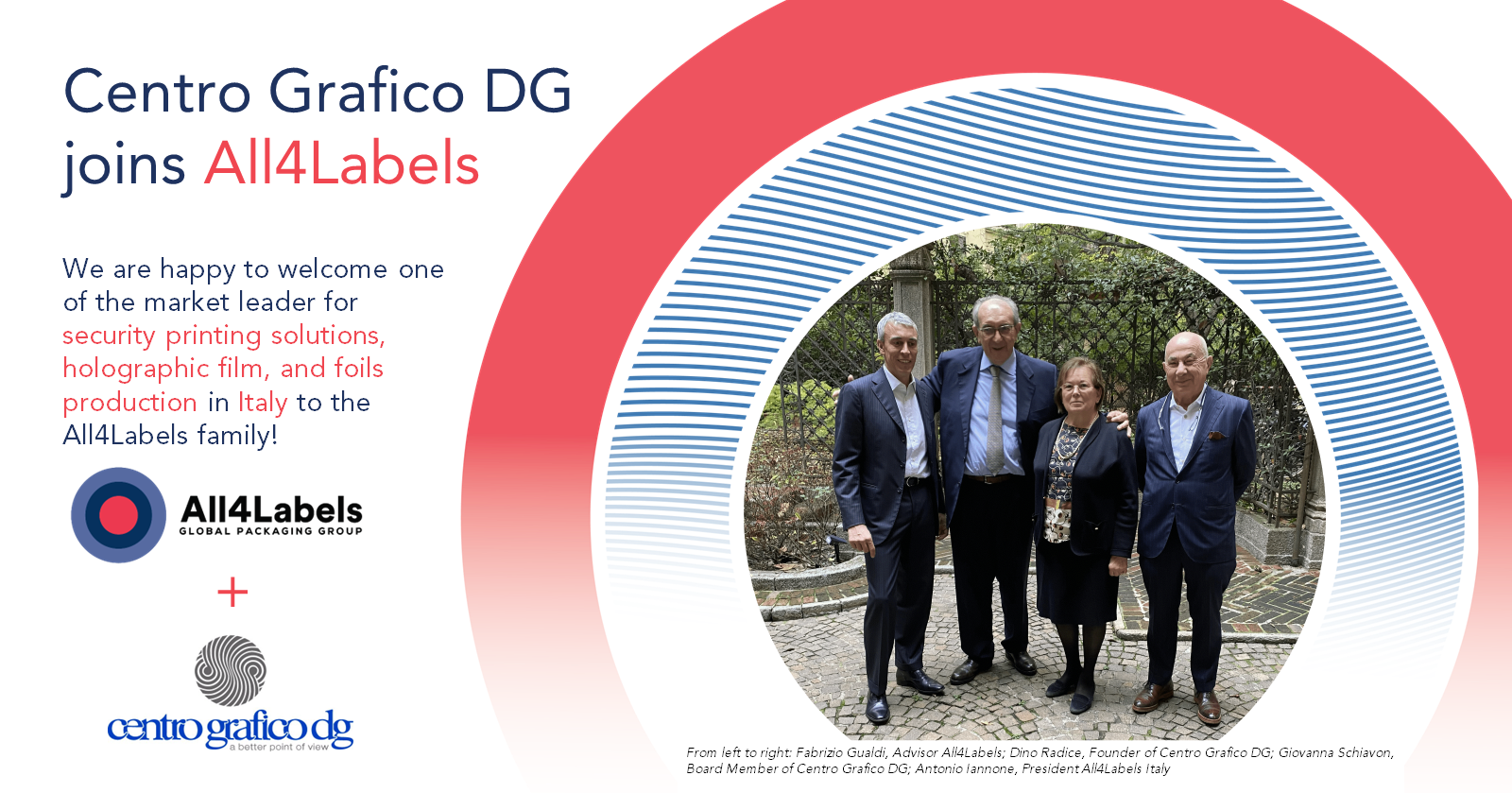 Centro Grafico DG joins the All4Labels Group
All4Labels Global Packaging Group one of the world's leading label and packaging companies, is continuing its global growth strategy by acquiring Centro Grafico DG, a market leader with more than 50 years of experience in security printing solutions, holographic film, and foils production. The Group's strategy of expanding into fast-growing and attractive markets is being continued with renowned partners. Terms and conditions of the transaction were not disclosed.
Antonio Iannone, President of All4Labels Italy, highlights: "Today we are sincerely proud to add another important milestone to our path of growth by welcoming Centro Grafico DG as new member of the All4Labels Global Packaging Group. Centro Grafico DG is at the forefront in the development and research of new solutions for security printing and brand protection. Together we aim at consolidating our portfolio of smart and secure solutions complying with the highest quality standards on the market."
Centro Grafico DG is specialized in the formulation, production, and delivery of base foils for the holographic industry, security materials for brand protection, ID and travel documents authenticity and data protection, official documents, currency, and credentials. Dino Radice, Founder of Centro Grafico DG, states: "Joining All4Labels Group represents a unique opportunity for Centro Grafico to reinforce its presence in the Italian market and beyond, as well as to start a new path within the Group to offer an ever-widening range of innovative solutions to guarantee protection of identity and authenticity".
Günther Weymans, COO at All4Labels, adds: "With the acquisition of Centro Grafico DG we aim at unlocking important cross-markets growth opportunities. Our goal with this acquisition is to widen our offer to the market and to keep on moving towards a sustainable and digital growth. We welcome our new colleagues to our global family, and we look forward to continuing the All4Labels success story as a team."
About Centro Grafico DG
Centro Grafico DG is a private company that over the years has integrated the security printing knowledge with holographic film and foils production technology.  The company was founded in 1970 and along the years has achieved an established worldwide reputation for quality and reliability of its products and services. The progressive manufacturing technology, a flexible approach and attention to detail allow Centro Grafico DG to fulfil the most demanding requirements from Customers and Partners. The constant relationship with governments, industry and commerce aims to understand the issues of security and authenticity attending to today's market requirements and with a vision oriented to the security demands of the future.
www.centrograficodg.it